Fasca or Fusca,
Dark Weavers Bamboo
(Bambusa textilis var. fasca)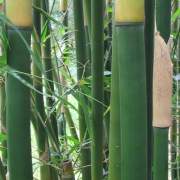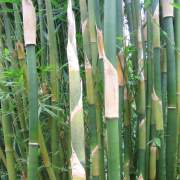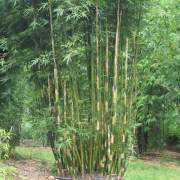 Fasca is a dark variety of Textilis or Weavers Bamboo (Bambusa textilis), named for the dark colour of the new culms that have little or none of the white powder found on Textilis and Gracilis when young, but age to the same colour; becoming more golden with direct sunlight. It forms a slightly more open clump than Gracilis, that narrows at the base and has larger diameter (30-40mm) shoots and dark bristles on the culm sheathes. At 8 -10 metres it's not quite as big as the species type (Bambusa textilis), yet a bit taller than Gracilis. An excellent bamboo for privacy screens and hedging, Fasca is as cold and wind hardy as the other Weavers Bamboos. The timber is very good craftwood or fencing material.
This bamboo is widely distributed and has been sold as both Fasca and Gracilis (which is what we ourselves bought it as, on two different occaisions, from two different growers).
Home Contact Us
Drepano < Varieties > Gracilis